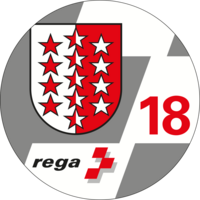 With the stationing of a rescue helicopter in Sion, in Canton Valais, as from Christmas 2021 Swiss Air-Rescue Rega is strengthening its operations in the canton of Vaud and the western part of the Bernese Oberland. This step is being taken in collaboration with the locally based helicopter firm, Héli-Alpes SA.
The stationing of an AgustaWestland Da Vinci helicopter in Sion is being carried out in collaboration with the local helicopter firm, Héli-Alpes SA, in whose hangar the Rega helicopter will be based. The Rega crew is on standby around the clock and can thus take off within just a few minutes, including at night, in order to bring medical assistance wherever it is needed.
Similarly to all Rega's helicopters, the rescue helicopter in Sion is equipped with a rescue hoist and can be deployed for Rega's entire scope of operations – including transporting intensive-care patients and new-born or premature babies.